BGO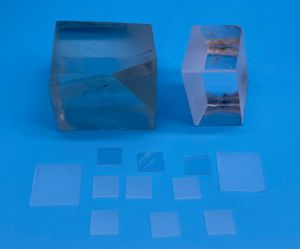 Bismuth germanate is a colorless and transparent non-polar oxide crystal with a cubic structure. It is insoluble in water and can emit green fluorescence with a peak of 480nm under the excitation of high-energy particles or high-energy rays (x-rays, γ-rays). BGO crystal has the advantages of strong radiation blocking ability, high scintillation efficiency, excellent energy resolution and non-deliquescent.
CasCrysTech (CCT) provides high quality bismuth germanate (BGO) crystal crystal to the clients.
Uses/Applications
It is a new generation of scintillation crystal material.
Features/Benefits
Strong radiation blocking ability;
High scintillation efficiency;
Excellent energy resolution and non-deliquescent.
| | |
| --- | --- |
| Crystal Structure | Cubic |
| Lattice Constant | a=1.0518 Å |
| Density | 7.13(g/cm3) |
| Mohs Hardness | 5(mohs) |
| Melt Point | 1050℃ |
| Refractive Index | 2.15 |
| Radiation Length | 1.1cm |
| Fluorescence Peak | 480~510nm |
| Recession Time | 300ns |
| Relative Light Output(%) | 10-14 Nal(Tl) |
| Energy Resolution | 20(511KeV,%) |
| Orientation | <001>、<110> |
| Dimension | According to customer needs, substrates with special orientation and size can be customized. |
| Polishing | One side or two sides |
| Package | Class 100 clean bag, Class 1000 super clean room |