RE: LiLuF4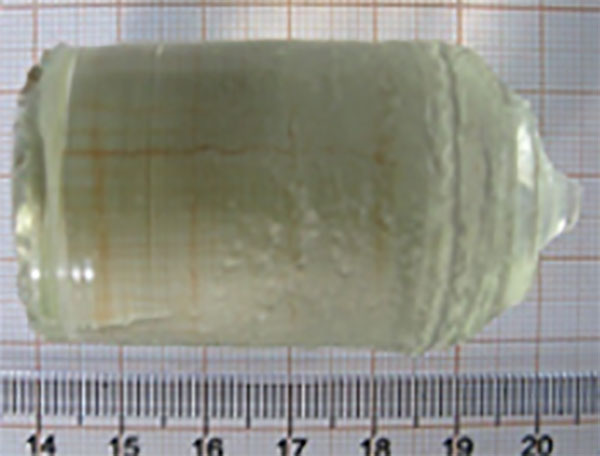 Rare-earth-doped lithium lutetium fluoride crystal (RE: LiLuF4) is a type of crystal that contains rare earth elements, such as erbium, thulium, or holmium, which are added to a matrix of lithium and lutetium fluoride. It is known for its excellent optical and spectroscopic properties, making it an attractive material for various applications.
RE: LiLuF4 crystal has a tetragonal structure and belongs to the space group I41/a. The crystal lattice consists of alternating layers of LiF and LuF4, with rare earth ions occupying interstitial sites in the lattice. The rare earth ions serve as activators that introduce optical and spectroscopic properties into the crystal.
It has low nonlinear refractive index and thermo-optical constant, negative refractive index temperature coefficient, can offset thermal distortion, and can output high beam quality laser. LLF crystal doped with trivalent rare earth ions has higher optical storage capacity. Compared with YAG crystal, LLF crystal has higher slope efficiency, lower threshold, lower phonon energy and longer fluorescence lifetime.
The demand for RE: LiLuF4 crystal is expected to grow in the future due to its unique optical and spectroscopic properties and its potential applications in various fields. Researchers are exploring new ways to improve the crystal's performance and develop new applications, such as quantum information processing and communication. The development of new fabrication techniques and the use of new rare earth ions are expected to further enhance the crystal's properties and expand its applications in the future.
Uses/Applications
RE: LiLuF4 crystal has a wide range of applications in the field of optics and photonics. It is used as a laser material for generating mid-infrared radiation, as well as a gain medium for optical amplifiers. It is also used as a scintillator for gamma-ray detection and in medical imaging applications. Additionally, RE: LiLuF4 crystal has potential applications in quantum computing and communication due to its long coherence times.
Features/Benefits
One of the key features of RE: LiLuF4 crystal is its unique optical properties, such as high luminescence efficiency, broad absorption and emission bands, and long fluorescence lifetimes. These properties make it an excellent material for various applications, such as lasers, amplifiers, and scintillators. Additionally, RE: LiLuF4 crystal has a high damage threshold, good thermal stability, and low phonon energy, making it an ideal candidate for high-power laser applications.
| | |
| --- | --- |
| Name | Rare-earth-doped lithium lutetium fluoride crystal (RE: LiLuF4) |
| Crystal Structure | Tetragonal |
| Lattice Constant | a=5.16 Å c=10.85 Å |
| Density | 6.19(g/cm3) |
| Moss hardness | 5 |
| Melt Point | 850℃ |
| Thermal Conductivity | a: 5.0 w/(mK); c: 6.3W(mK) |
| Heat Capacity | 0.53J/g.K |
| Temperature coefficient of RI | a: -6.0x10-6K-1; c: 3.6X10-6K-1(C) |
| RI @1064 | 1.47 |
| Dia. | 2-36mm |
| Length | 2-50mm |




Note: Re:LiYF4, Re~ Yb, Tm, Ho, Tm+Ho or Pr.




Dia. : 2mm-36mm;

Length:2mm-50mm.